Jensen
Popular room with a view of the Circular Bridge. Perfect for the small meeting with room for only six people.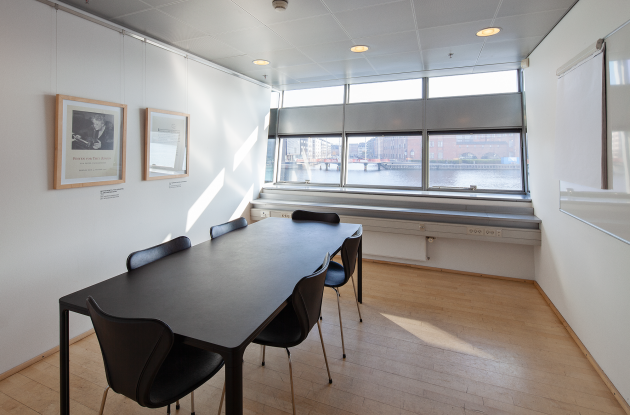 Meeting room Jensen is a nice and bright meeting room on the 1st floor of The Black Diamond, which seats up to six people. With only 13 m2, it is a classic small meeting room with a beautiful view of Copenhagen harbour.
A bright room for small meetings
Jensen is perfect if you need a smaller room for small meetings, e.g. holding job interviews or video conferencing. The meeting room can also be used as a group room for larger events. Jensen also has standard equipment for holding digital and hybrid meetings.
Meeting room Jensen is rented out at a fixed price of 1,200 DKK per day, and Madkartoteket is responsible for meeting catering.
Wifi is free and available throughout The Black Diamond.
Equipment in Jensen
When you have your meeting in Jensen, it is included in the rent that our competent technicians take care of setting up equipment and also make sure that everything is working correctly.
---
Camera and audio for
video conference included
---
Technical assistance
at start-up
Please contact us if you have other wishes or questions.
Arrangement
Meeting room Jensen's table arrangement can only be a conference arrangement.
---
Conference setup
up to 6 people
Read more about meeting packages and prices for full- and half-day meetings in Jensen
Meeting room Jensen is named after the Danish writer Thit Jensen (1876-1957). She was committed to women's rights and was not afraid to stand (on a few phone books) and talk about ligature. Thit Jensen, who by the way was the sister of writer Johannes V. Jensen, was physically petite, but she was not to be underestimated. That is why we have named our smallest meeting room after her.