Overview of meeting rooms
Take a look inside The Black Diamond and get an overview of the conference facilities and meeting rooms we can provide for your meeting or event.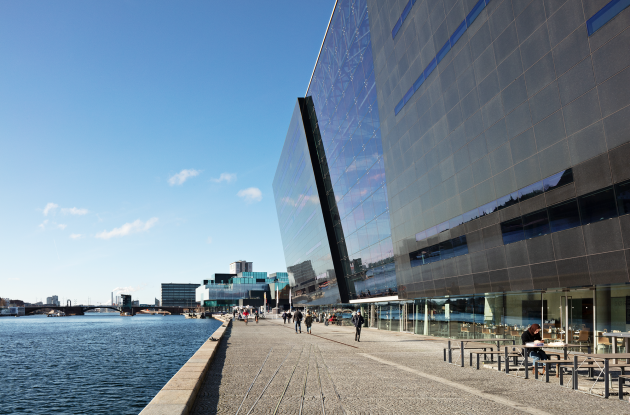 In the heart of the oldest Copenhagen you can hold your meetings and conferences at The Black Diamond.
Let the cultural house on Slotsholmen in Copenhagen form the framework for your next event. Get inspiration from great literary works for your next meeting or conference in The Black Diamond's beautiful and bright rooms. All the while enjoying the view of the Port of Copenhagen.
Our meeting rooms are named after some of Denmark's greatest literary authors: Karen Blixen, Ludvig Holberg, Saxo Grammaticus, Klaus Rifbjerg, Thit Jensen, and our large conference hall is named after the regent: The Queen's Hall.
Wifi is free and available throughout The Black Diamond.
Catering from Madkartoteket
When you rent a meeting room in The Black Diamond, you can also book meals from Madkartoteket. Here the staff will take care of everything you want - from breakfast and lunch to break snacks, coffee and cold drinks during the meeting. In the spring and summer months, our large outdoor areas on the waterfront are a great place to enjoy lunch.
Discount on parking in BLOX
We have an agreement with our neighbors in BLOX that gives our guests a 20% discount on the normal parking price when booking a meeting room in The Black Diamond.