Digital meetings
We offer a wide range of digital facilities so you can hold your video conferences from our meeting rooms in The Black Diamond.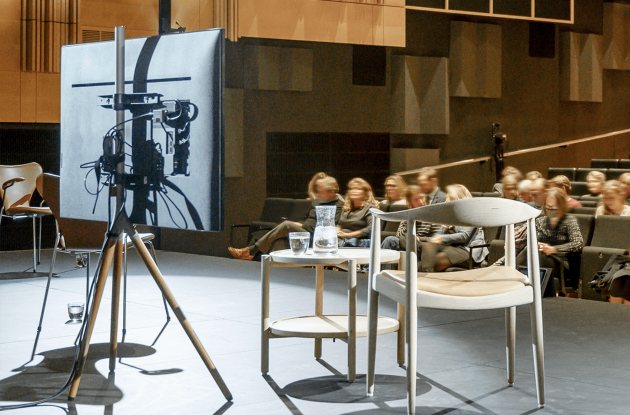 Digital framework for your meeting
Should your meeting be digital? We offer attractive solutions for your live event, webinar or online meeting at The Black Diamond.
We offer three basic formats:
Live streaming (one-way communication)

Webinar (two- or multi-way communication)

Hybrid meetings (combines the physical meeting with the virtual)
You can use all three formats through your chosen digital platform, such as Teams, Zoom or Facebook.
Options in the meeting rooms
In our smaller meeting rooms, Saxo, Jensen and Rifbjerg, you get a standard solution consisting of a video camera and sound (audio and video bar).
In the larger meeting rooms, Holberg and Blixen, in addition to sound, you also get a video conference camera with several settings - for example from close-up to wide angle.
Events in the Queen's Hall
You have many options for digital and hybrid events in the Queen's Hall. For instance, if you rent the hall, you can purchase a single set-up, which is suitable for documentation recording with high-quality sound and image (robot-controlled camera).
We tailor the technical solution to fit exactly your needs.
The solution can be a very simple production with a single camera or it can be a larger production with several cameras, allowing for videos cut and edited with excellent sound and beautiful high-quality images. The latter requires extra production. We will of course help to clarify the need for external help.