Holberg
A spacious meeting room with beautiful harbour views, lots of daylight, and plenty of space for up to 26 people.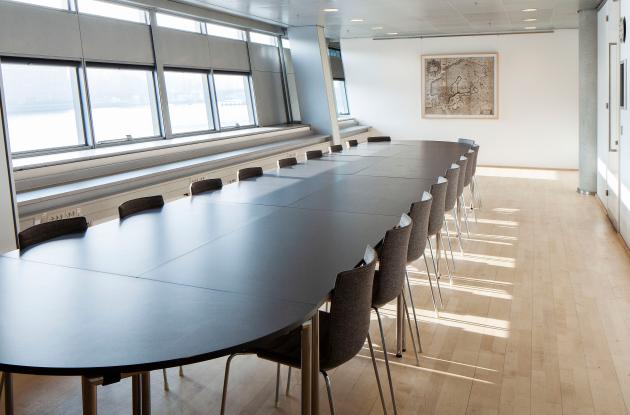 Meeting room Holberg is bright and open and has the most beautiful view of Copenhagen harbour, Christianshavn and Islands Brygge. In this medium-sized meeting room, located on the 1st floor of The Black Diamond, you can accommodate up to 26 people.
Suitable for teaching, press conferences or as a group room
With 49 m2, there are several options for setting up a table and chairs in the room. Holberg is well suited for e.g. teaching and press conferences - or as a group room for a larger event. Holberg also has standard equipment for holding digital and hybrid meetings.
Wifi is free and available throughout The Black Diamond.
Equipment in Holberg
When you have your meeting in Holberg, it is included in the rent that our competent technicians take care of setting up equipment and also make sure that everything is working correctly.
---
Technical assistance
at start-up
Please contact us if you have other wishes or questions.
Arrangement
Meeting room Holberg's table arrangement is by default a conference arrangement, but there are several other options.
---
Conference setup
up to 26 people.
---
Cinema arrangement
up to 50 people.
---
School table setup
up to 22 people.
---
Island setup
up to 26 people
---
Reception
up to 40 people.
---
Panel table included
up to 22 people.