Blixen
Blixen is a bright and spacious meeting room, located facing Søren Kierkegaards Plads with beautiful views over the water towards southern Copenhagen.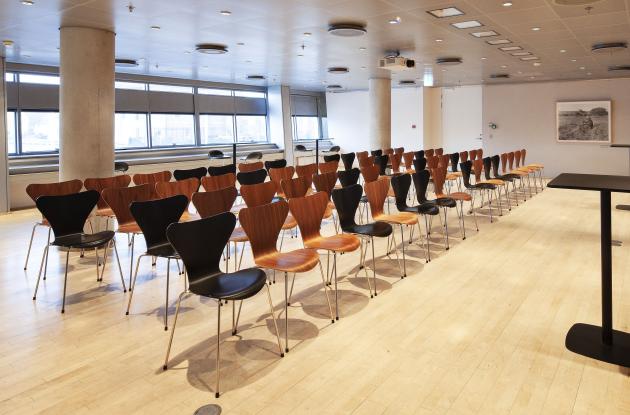 In the meeting room Blixen on the 1st floor you can be up to 100 people. With 124 m2, the room has many options for setting up tables and chairs - depending on your needs.
A flexible room with many options
The room is well suited for many different events such as conferences, press conferences, presentations, receptions, lectures, seminars, and the like. Blixen also has standard equipment for holding digital and hybrid meetings.
Wifi is free and available throughout The Black Diamond.
---
Capacity
Up to 100 people.
Equipment in Blixen
When you have your meeting in Blixen, it is included in the rent that our competent technicians take care of setting up equipment and also make sure that everything is working correctly.
---
Technical assistance
at start-up
Please contact us if you have other wishes or questions.
Table arrangements
In the meeting room Blixen the table arrangement is by default a cinema arrangement, but there are several other options.
---
Cinema arrangement
up to 100 people.
---
Conference setup
up to 28 people.
---
School table setup
up to 30 people.
---
Island setup
up to 48 people
---
Horse shoe setup
up to 26 people.
---
Reception
up to 100 people.
---
Panel table included
up to 100 people.
Read more about meeting packages and prices for full- and half-day meetings in Blixen
Meeting room Blixen is named after the Danish author Karen Blixen (1885-1962). She was respected by contemporary colleagues such as Ernest Hemingway and Truman Capote, and she became famous for, among other things, her work The African Farm about her 17 years as a coffee farmer. And the adventure can be felt in our Blixen-decorated meeting room.