Inquiry about digitisation of photographs, books, letters, and more
We offer digitisation in the form of, for example, photostats and OCR scanning of materials. Digitise a photo for your next book release or a letter for a research project.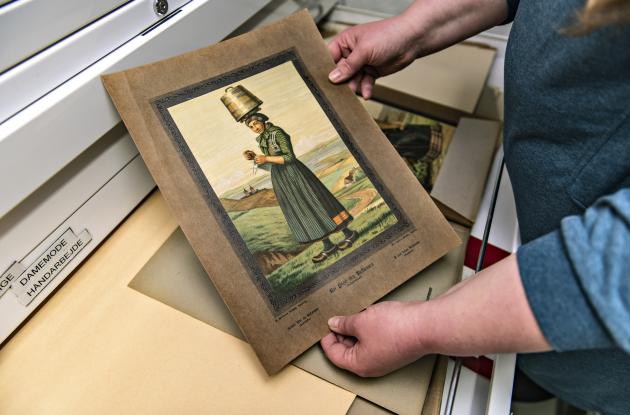 Use the form below to send us your request for the material that you would like digitised. Then we find out if it is possible and return with a possible price.
You are also welcome to contact us regarding major digitisation projects involving more than prints (photostats).
Please note that copyrighted material cannot normally be supplied as a digital copy. Unfortunately, we cannot offer legal advice in connection with copyright.
All prices are without VAT.
High resolution files, for printing
(Delivered as TIFF, 300 dpi, Adobe 1998 RGB profile)
Reproduction of originals, single sheets (for example photos and loose sheets)
Originals ≤ A3, per file
DKK 250
Originals ≤ A2, per file
DKK 500
Reproduction of originals, hardcover (e.g. manuscripts, books and periodicals)
Original (s) ≤ A1, per file
DKK 325
Original (s) ≤ A0, per file
DKK 650
In special cases of difficult-to-handle materials in obsolete formats, we add a handling fee
DKK 500
Expedition of previous digitisations (which cannot be freely downloaded in high resolution)
Regardless of size, per file
DKK 225
Low resolution files, for web/screen use
Reproduction of originals
Original (s) ≤ A3, per file
DKK 20
Minimum debit DKK 500 (i.e. 1-25 files: DKK 500 and 26 files: DKK 520 and so on)
 
Expedition of previous digitisations (which cannot be freely downloaded in high resolution)
Per file
DKK 12
Minimum debit DKK 500 (1-42 files = DKK 500 and 43 files = DKK 512, etc.)
 
Delivery via e-mail costs DKK 35.
Payment can be made by credit card or invoice.
You can expect a response within 10 business days.
When you purchase a digitisation of material from the library's collections, we reserve the right to subsequently make the digital copy freely available to all other users. That way, they can also benefit from digitisation.
We work with photographic reproduction equipment, different types of scanners and advanced multispectral digitisation equipment.
Our competencies cover image capture up to A0 format, scanning negatives and slides, text scanning from books and loose sheets with OCR (text recognition) and much more.
In addition to orders from the library's users, we also work with digitisation projects for other cultural institutions.