Preservation of physical cultural heritage
We offer professional advice and analysis on preservation and conservation of archive and library collections, and we sell acid-free storage boxes in different sizes.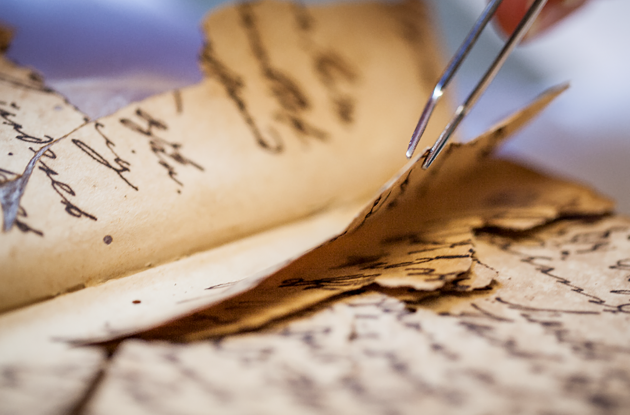 Royal Danish Library's conservators and bookbinders work to preserve the library's physical collections and ensure that the works are handled in a way that benefits both users of today and the future.
We are a centre of competence for the preservation of archive and library collections, and we use the latest technologies, methods and standards within the field of preservation. We have expertise in the conservation of, among other things, books, records, graphic art and photography, as well as emergency preparedness, collection preservation, exhibition and storage.
We also offer a range of services to other cultural heritage institutions, business clients and private individuals according to the government's rules for commercial business.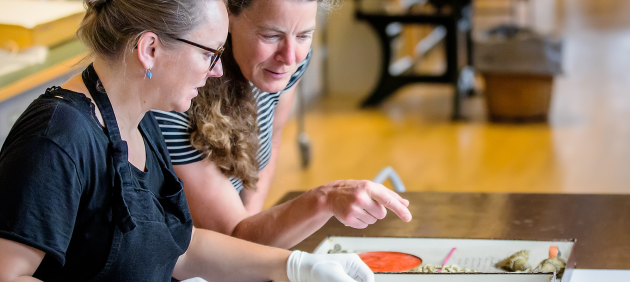 Consultancy
We offer consultancy regarding the preservation of archive and library collections, for example in relation to handling acute water damage, fire damage, pest or mold infestation, or how to minimize preservation risks. We also advise on optimal storage conditions relating to a specific collection.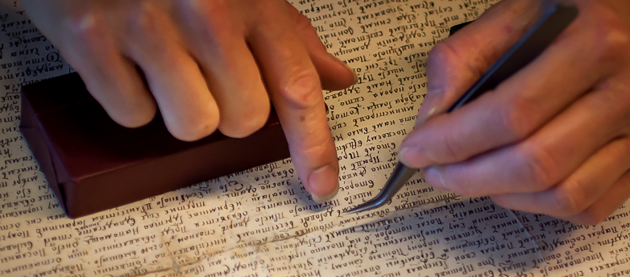 Preservation
We perform major conservation tasks by appointment, such as conservation of records, books, photographs, graphic art, etc., conservation of insect and fungus-damaged material, and stabilisation and preparation of works prior to digitisation or exhibition.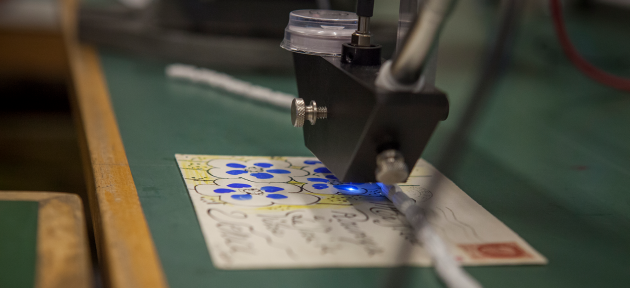 Determination of light sensitivity (Microfading)
When a work is exhibited in light, illustrations and text lose more or less color depending on their light sensitivity, the length of the exhibition and the intensity of the light. If significant bleaching occurs, the work loses part of its aesthetic value and ultimately its information value.
The sensitivity of a color or an ink stroke is difficult to assess, as it is rarely known what it may consist of. Many colors are stable, but there is often a risk that the color is extremely light-sensitive and will be bleached and thus destroyed in a short amount of time.
We have equipment to examine how light-sensitive a work's ink or colors are (microfading). During the examination, a very small area (0.3 mm) is affected by a strong light source while the reflected color is measured. The size of the color change is categorized according to the international standard Blue Wool (BW) .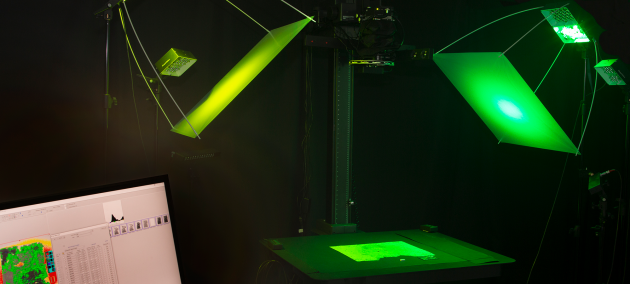 Multispectral imaging
Multispectral recordings can provide insight into work processes. For example, if an author has made changes in the form of crossing something out, the technique can bring the hidden information to light. It can also make watermarks visible and significantly improve the readability of documents.
The technique is also used to identify historical pigments and ink types. This means that it can be used to visualise retouches and detect counterfeits.
You're welcome to contact us, if you want to hear more about the options for multispectral imaging and at what price we can provide the service.
Acid-free archival supplies
We sell acid-free boxes in high quality. The boxes are long-lasting and protect against disintegration due to handling, transport, light, dust, air pollution and fluctuations in humidity. The boxes are grey on the outside and white on the inside. We manufacture the boxes on a computer-controlled machine and are able to deliver different types of boxes in both standard sizes or according to special measurements.
There is a minimum of 25 units per order when ordering the standard boxes. There is no right of withdrawal on ordered boxes. For larger orders, we can provide equipment for automatic measurement of box sizes by agreement.
Standard boxes can be entered without any modifications other than size.
KS3 - Clam-shell box model for objects with width of 25 mm or more
KSM11 - Four-flap folder for objects with width up to 25 mm
KS16 - Box in two halves (bottom and lid) for objects with width of 25 mm or more
Box model KS3 and KSM11
| Format | Height in mm | Width in mm | Depth in mm | Price ex. VAT and delivery |
| --- | --- | --- | --- | --- |
| A5 | 210 | 148 | 50 | 75 DKK |
| A4 | 297 | 210 | 50 | 88 DKK |
| A3 | 420 | 297 | 50 | 103 DKK |
| A2 | 594 | 420 | 50 | 150 DKK |
Box model KS16
| Format | Height in mm | Width in mm | Depth in mm | Price ex. VAT and delivery |
| --- | --- | --- | --- | --- |
| A5 | 210 | 148 | 50 | 75 DKK |
| A4 | 297 | 210 | 50 | 88 DKK |
| A3 | 420 | 297 | 50 | 119 DKK |
| A2 | 594 | 420 | 50 | 182 DKK |
Book cradles
We have developed a flexible book cradle system for exhibiting books. The design is simple and consists of a supporting base in brushed stainless steel on which you can attach a wing in transparent acrylic. The system is available in several sizes and variations, accommodating both the book's opening angle and the angle of the book in relation to the viewer. The individual parts can be assembled in different ways as needed.
The system is negotiated by the Museum Service.